I was talking with a friend the other day, who asked me how my
propane forge
was coming along. I told him I'd been having issues with the Satanite (the burner cones in particular), and that with moving and everything...I hadn't had any real time to dedicate to it. He told me he still didn't understand why I was building such a large forge. I explained the dimensions and reasoning, at which point he asked me again lol...'why are you building such a large forge??'! I told him that using a single burner and a muffle, I'd be heating a 6"x9" area tops. He then told me his main working forge was made from a coffee can. He uses this for knives
and
swords. He has two other forges as well...one about the size of the one linked above (but with a single burner) for normalizing and heat treating medium length blades, and a 55gal drum deal for swords...but he said the little one is the one used for all of his forge work, exclusively (it will even weld small billets!). He used a disposable/tank adapter, and runs his off a barbecue propane tank...said it lasts forever lol.
This got me thinking of course. A trip to Lowes netted me the beginnings of my own Paint Can Forge.
All in all, the below pictures represent about 30 minutes work.
Seriously.
Materials: Bernz-o-matic JTH-7 propane/mapp torch ($40...discontinued, the new style replacement is nicer, comes with a self start button, but is about $75), 1gal Lowes paint can ($4.95), 4' of 1 1/4"x1/8" flat strap ($4.95). Not pictured are the 2 square foot of 1" 8lb density Kaowool ($7.95 at

Anvilfire Store

...you'll only use about 1' square), and the 1lb or so of Satanite Refractory Mortar ($3.50).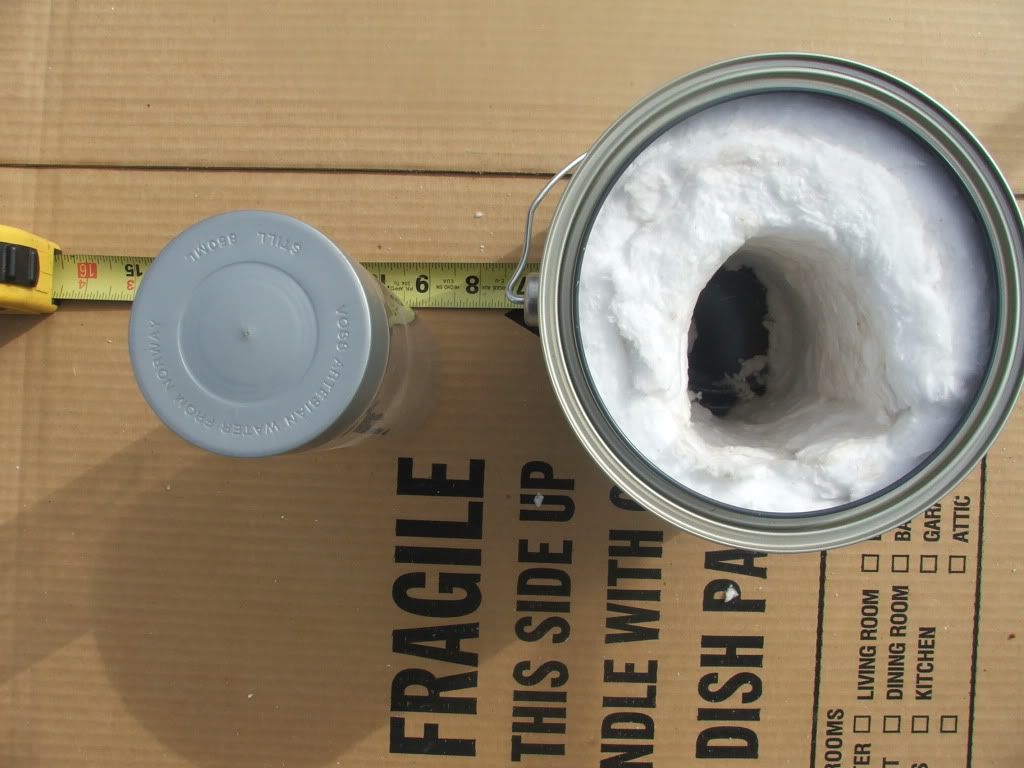 First, I lined the forge with one layer of the Kaowool, all the way around the internal circumference of the can. I pressed this into place by hand, ramming it as tight to the outer shell as I could. BE SURE TO WEAR A RESPIRATOR OF SOME TYPE WHEN WORKING WITH KAOWOOL. After that, I cut a smaller piece, and ran it around the upper 3/4 or so of the cavity. The reason for this is that a full 2" (it's actually closer to 3" as installed) of Kaowool per side doesn't leave enough internal area for the flame/heat to circulate, in a 6.5" diameter paint can. By leaving the floor flatter (I'll be slathering it with about 1/4-3/8" of Satanite for durability), and lower...it gives a bit more room for circulation. Additionally, using logic...heat rises. I wanted the majority of my insulation on the top and sides. You could always use just one layer of insulation (this has been done many times, and successfully)...but in all my research, it's almost universally agreed that MORE insulation is always better. Additionally, a smaller internal area, assuming you have enough room for an even heat...will get hotter (hotter is good!), using less gas.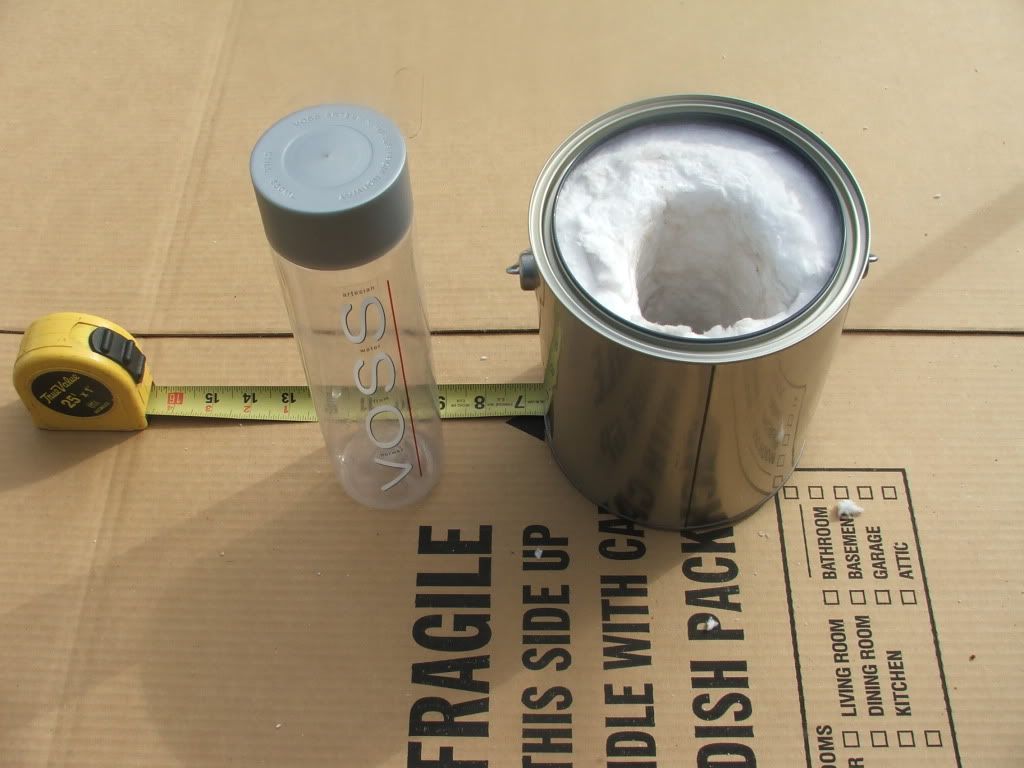 I used a 2.5" diameter Voss water bottle for a press/ram, to shape the inside into a smoother surface and pack the Kaowool tighter to the can/housing.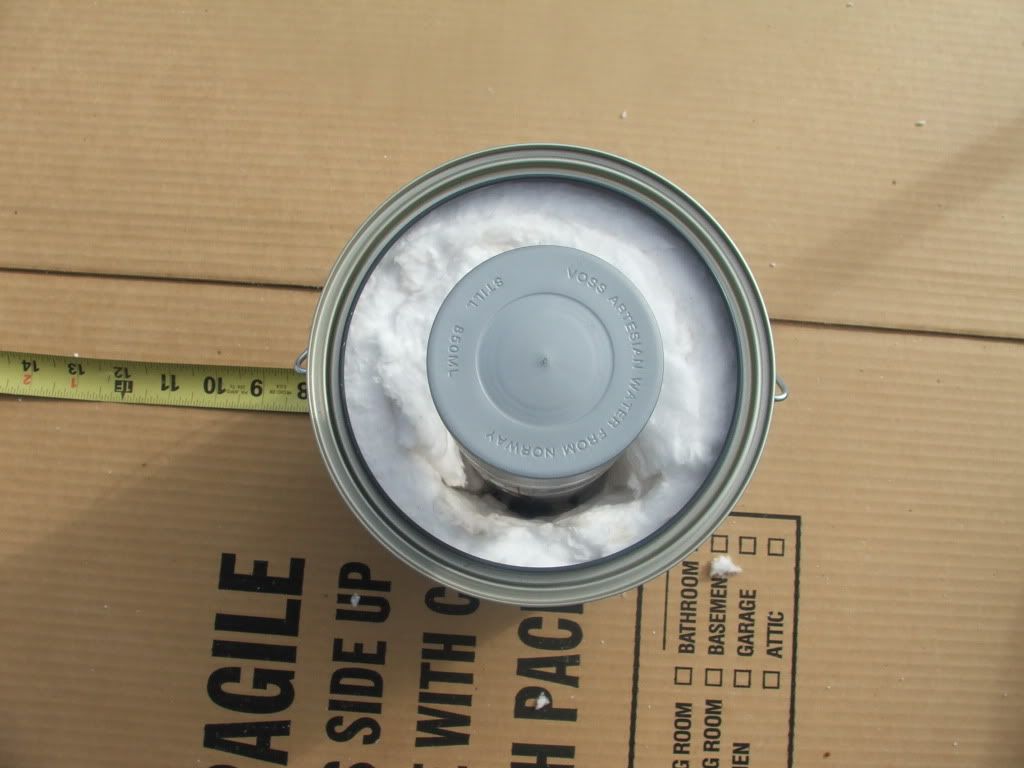 Here you can see the water bottle inserted into the cavity. I continued to press it in a circular motion until I got things shaped roughly how I wanted. You can see the gap in the bottom, which will be roughly filled with a flat layer of Satanite (with rounded corners of course).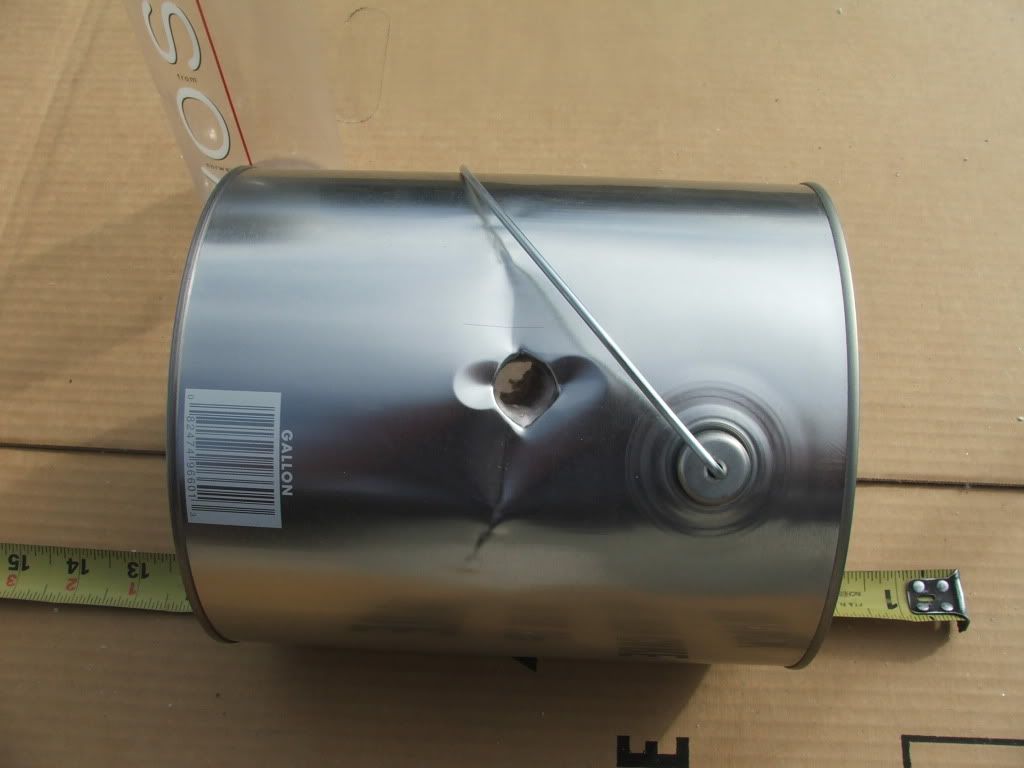 I considered drilling the hole in the can, but the punches were closer and I wasn't really worried about the looks. Additionally, I intend later to screw in (and epoxy) a 3/4" nipple as a burner holder, and having the additional support from the punched metal will help with strength. I used the same punch set to open the hole in the Kaowool, working the punch in an angled, circular motion to press the hole into a somewhat conical opening. I then used my water bottle to reshape the interior, alternating back and forth until the hole was as I wanted, and the interior cavity was smooth and rounded. What you see on the inside is only a tuft of Kaowool that ripped loose.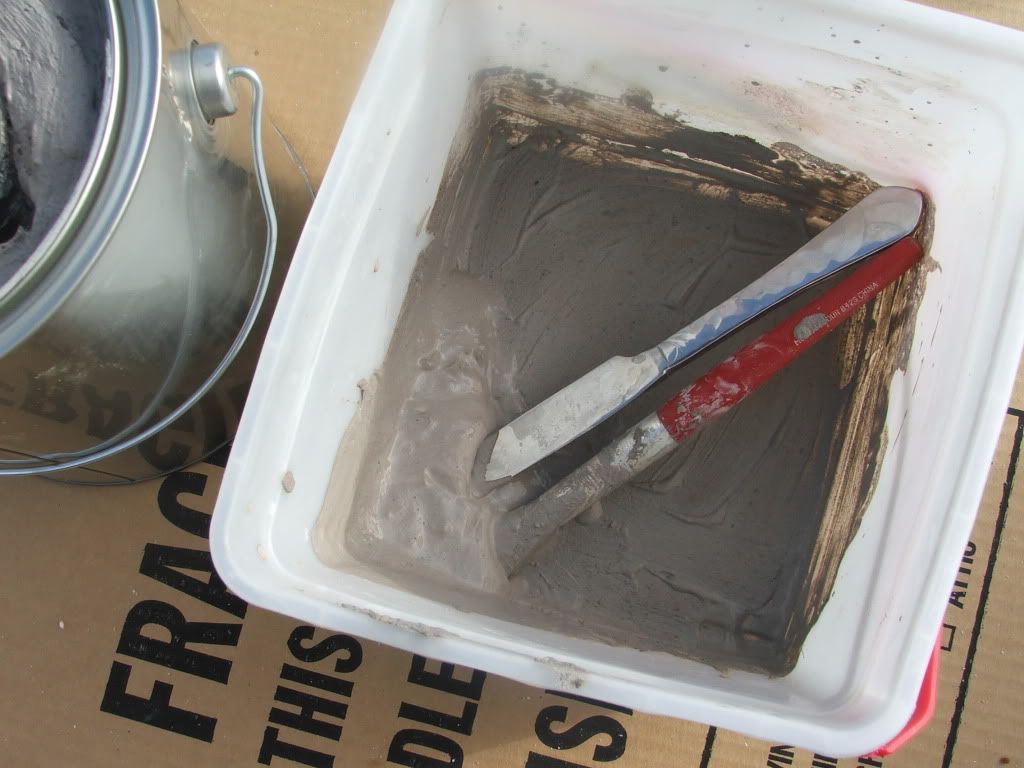 Next we mix up our Satanite. A heavy cream consistency seemed to work best for me. The butter knife is the mixer, the paint brush the applicator. This is what was left of the 1lb or so of Satanite I used. When you do yours, only mix about half at a time. I will need to mix more for the floor later, and what was left in the tub went to waste.
This is the interior surface and face, after application of the Satanite. As you can see the coverage wasn't 100% (and is very thin where it is complete), but that's ok. I'll go over the whole thing one more time when I do the floor. Be sure to get the burner opening as well. Kaowool, once heated, is very brittle, and turns to a powder with simple air pressure. When inhaled, it acts like asbestos in your lungs. Not good.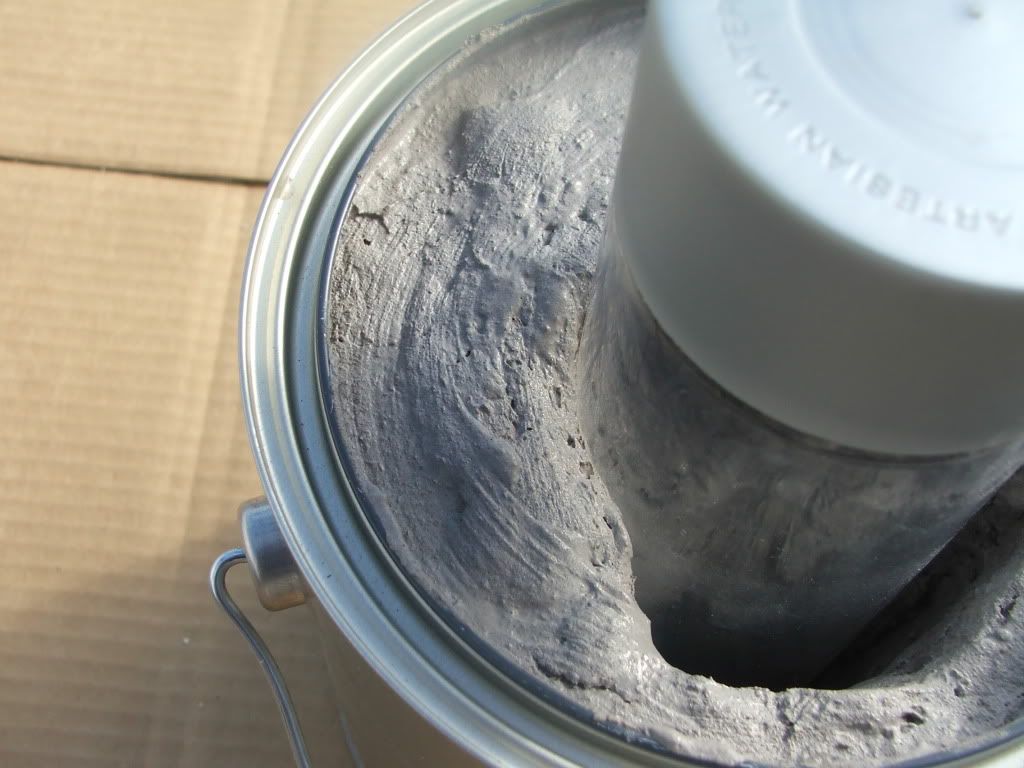 I reinserted the water bottle to keep the internal structure of the cavity secure while the Satanite cures. By tomorrow it should be dry enough to finish the floor and second layer.
There you have it! 30 minutes work, with another roughly 30 minutes work tomorrow...and I should be able to fire it up within a couple days. The last thing I will need to do is setup the door for the front. I'm thinking I will wait till everything else is dry. Then I'll use the lid, with a single layer of Kaowool attached with spray adhesive. I'll then cut my opening for the door, and apply a thin layer of Satanite around the portion of the Kaowool that will be exposed, then just tap the lid closed. The Kaowool will compress, making for a nice, gasket sealed door. At that time I'll also cut a small opening in the back along the floor as a pass through, then press one layer of Kaowool in there as well, slathered with Satanite.
Oh, also...the particularly observant among you will likely notice I didn't put my legs on first lol. I was pretty excited about this project and jumped right into the meat of it before I remembered doing the legs first would probably be a good idea lol. I was going to use short bolts (head inside the can) with a star washer on the inside, and a flat/lock washer paired up on the outside. Since that's obviously not going to happen now, I'll just use 3 or so self tapping screws per mount (12 total).
Anyhow, if you guys have any cool ideas, comments or critique, let me know. The whole purpose of this post, really...was to show that these forges don't need to be complicated at all, nor do they need to take up large amounts of room. If you had a portable anvil (weight, heavy rock...whatever!), you could setup in your backyard (or even possibly on a patio in an apartment complex to be honest), make your blade, and when you're done, store it all on a shelf in the garage or storage room. If using it at your apartment is impossible, this could easily be taken to a park or other wide, open area (we have
a park near us
that actually has an antique smithy, complete with coal forges, bellows, and 3 anvils for demonstration purposes. I believe it is open to the public as well). It really is that small. I wish I'd thought of this before starting on my bigger forge...because if I had, I'd have been forging over the last month, rather than screwing with a complicated, overbuilt, double burner deal lol =D.
Anyway, I hope this can be of use to someone!
Cris